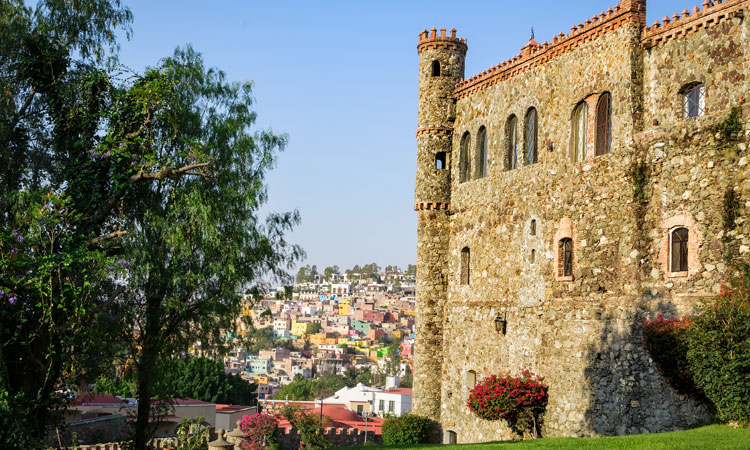 The Castillo de Santa Cecilia's history goes back centuries, when these lands where originally owned by the San Francisco Javier hacienda de beneficio in 1686. Hundreds or workers under the command of the Viceroy of New Spain where in charge of the metal goods manufacturing, with a metal that proceeded from some mines nearby. As time passed and with the new working methods, the conditions of the hacienda started to change, leading to its decadence and reducing the mining production to the minimum.
It wouldn't be until many years later that the hacienda of San Francisco Javier managed to get back part of its former splendor and in October 27th 1881 was visited by the general Porfirio Diaz and the governor Manuel Muñoz Ledo, who praised the way the work was done there. At the mine, people was weighed at the moment they stepped in and out, making sure they didn't took one single gram of the metal produced there. General Diaz weighed exactly the same when he came in than when he came out, but this didn't happen with some people that were with him.
Sadly, the mining production started to decrease in the whole state of Guanajuato and many of the metal working haciendas disappeared or diminished their activities. Part of the facilities of the San Francisco Javier hacienda were appointed to bring several services, so, by 1916 it turned into a shelter and hospital, remaining like this for one year until it was shot down.
The property was bought by Don Manuel Quezada Brandy. It also included a large extension of land, where there was a mineshaft already abandoned known as "Santa Cecilia" and that is how on May 17th 1951 a hotel with the characteristics of a medieval castle started its construction.
Inaugurated in 1952, the fame of the hotel grew. Important personalities of the time stayed there as magnificent dances and ceremonies were held in its ballrooms. Politicians, international artists and the most selected society attended these balls.
Manuel Quezada Brandy started the first phase of the hotel with 20 rooms; through a second phase, Don Ricado Orozco managed to reach 80 rooms and nowadays, Alfonso Garcia Garcia and his family have suited all the facilities and increased the number of rooms to 110.
Many movies and TV shows have been filmed at the facilities, including:
Capulina Vs. the Mummies of Guanajuato
Caperucita Roja y el Lobo
Cuando las Cosas Sucecen
Derbez en Cuando (Eugenio Derbez)
Soup opera Amor Gitano (with Alejandro Camacho, Nailea Norvind)
Hoy
We have also received many important characters of history, politicians, royalty and celebrities, including:
Carlos de Borbon and Doña Sofia (Kings of Spain)
Isabel II (Queen of England)
Gustavo Diaz Ordaz
Brigitte Bardot
Mario Moreno "Cantinflas"
Jorge Mistral
Alex Lora (El Tri)
Benny Ibarra
Maria Felix
Miguel Aceves Mejia
Alberto Vazquez
Angelica Maria
Eloy Cavazos
Antonio Aguilar
Jose Alfredo Jimenez